Editor's note: This is a developing story, as this information was not available to students and the community until April 21.
Over the next decade, the College of William and Mary will renovate or replace 80% of its residential and dining facilities. This expansive project, slated for completion in 2032, plans to advance and improve the campus living experience, as well as align with the environmental and financial sustainability goals of Vision 2026.
"In line with the Vision 2026 goal of 'Evolving to Excel', we will move from planning to implementation this spring," said College President Katherine Rowe. "We aim to ensure that the university accommodation and restaurants will strengthen William and Mary's academic mission for generations to come."
The plan will be divided into three phases, with each phase dealing with different locations and buildings on campus. At the end of the project, 100% of the beds will be air-conditioned, the average age of the dwellings will decrease from 54 years to 10 years and the number of individual residences will increase from 70 to 55 years.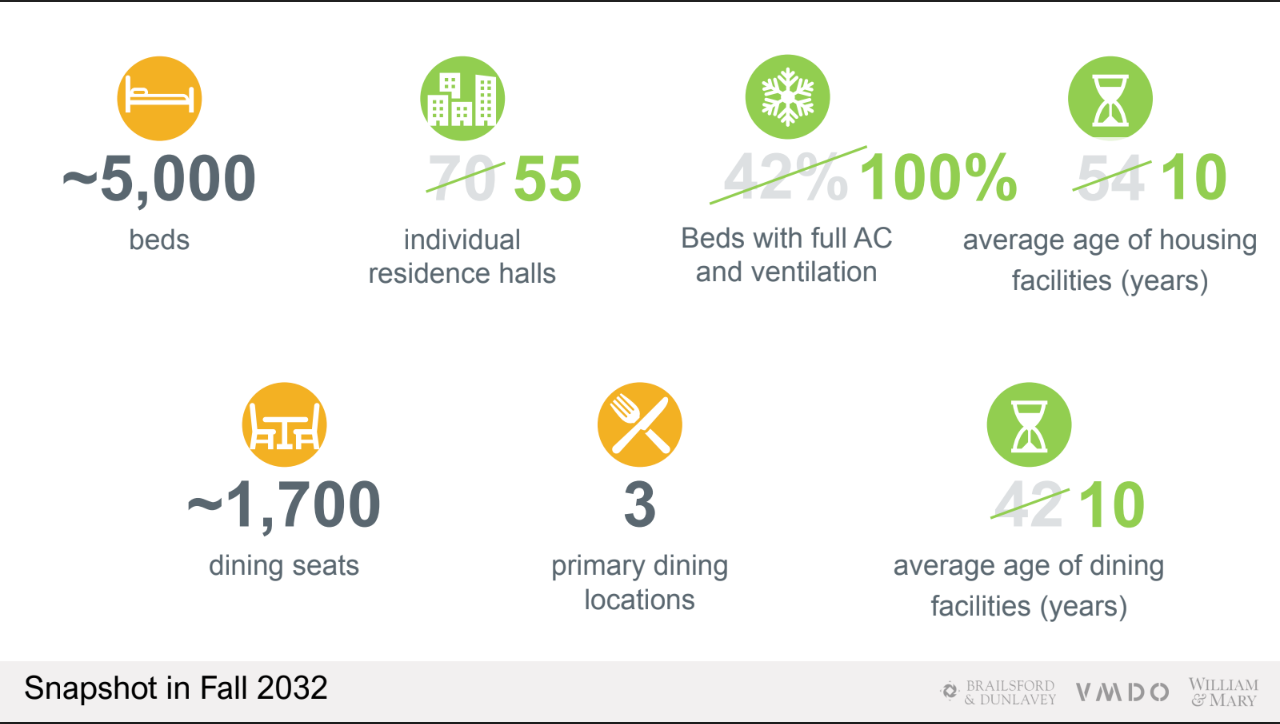 Although the total number of beds will not change – it is expected to remain constant at 5,000 – the College will seek to increase or decrease this number based on student demand and planned off-campus development. Currently the bed capacity is approximately 4700 as Richmond Hall is not available for students.
Despite the massive changes, the project will try to minimize any disruption to student life.
"The main questions are how can we replace the most beds in the least amount of time…so we want to speed this up as much as possible, specifically targeting dorms and facilities that have been identified by consultants as having the most needs attention," said Vice President of Student Affairs Ginger Ambler. "At the same time, recognizing that as buildings come out of inventory and are returned in this process, we must always maintain accommodations to meet anticipated demand and anticipated student needs, and also be mindful of our buildings that are not going to need major renovations…that we continue to provide them with ongoing maintenance so that we don't end up with a deferred maintenance problem at the end.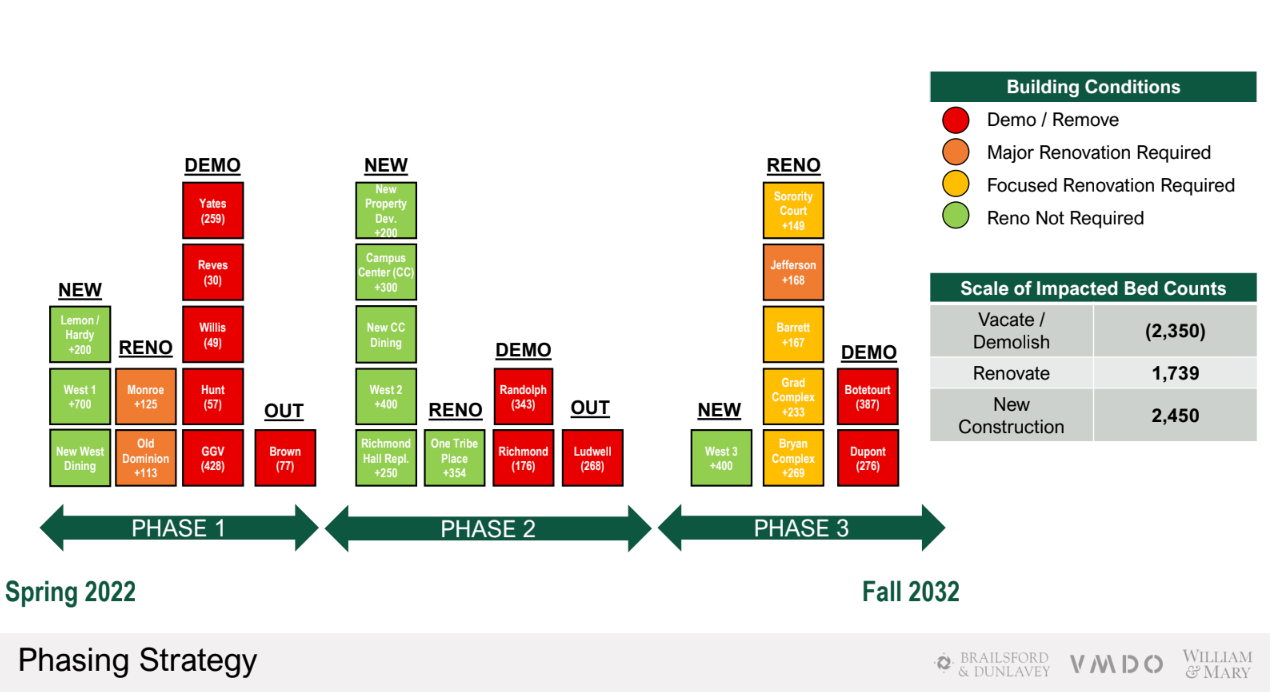 First phase
The first phase can be divided into six different projects, including the renovation of Old Dominion and Monroe Hall, the addition of new housing to complete the Lemon-Hardy site, the demolition of Yates Hall to build the West 1 Campus Housing, the construction of a new West Campus Dining, the cleanup of the Campus Center site for new construction and the demolition of Green and Gold Village and Commons Dining.
Costing approximately $234 million, some aspects of the first phase are already underway, as Campus Center offices and organizations move to the new Sadler Center expansion this summer, and plans to renovate the 'Old Dominion and Monroe Hall were launched.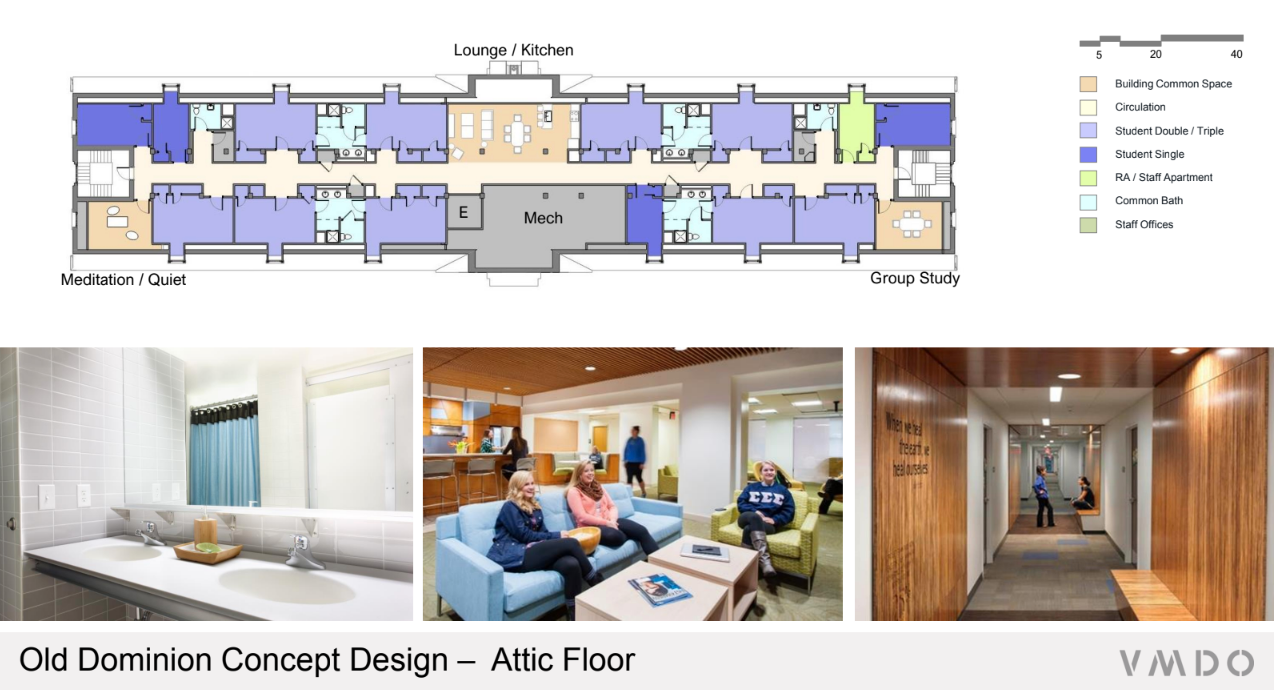 As with every project, the College hopes to incorporate student voices and priorities into their plans. For Old Dominion (expected to be completed in fall 2025) and Monroe Hall (expected to be completed in fall 2024), conversations with students indicated a need for better social and study spaces, more outdoor space for gatherings, an elevator and bathrooms for all genders.
"So what's important to me is identifying student priorities based on conversations with residents about what's important to them in modern facilities…and here you'll see some of the things we've heard from students when we talked about renovations for Old Dominion and Monroe," Ambler said in reference to the following attached slides.
Arguably, the most transformative aspect of the first phase may be the creation of West 1 Campus Housing and West Campus Dining. Students may find the term "west campus" unfamiliar, as normally the campus is divided into "old campus" and "new campus". West Campus is used to describe the area around Yates and Commons Dining, and West Campus 1 Housing will be on the same site as Yates.
West Campus 1 will have 700 beds and will consist of three residences and a canteen. The College will seek a public-private partnership for new construction and demolition, which will reduce the impact on student room rates.
Phase two
Phase two hopes to revitalize the new campus entrance, seen as the bridge between the College and Colonial Williamsburg. Costing approximately $350 million, phase two will be in partnership with the William & Mary Real Estate Foundation.
There are six projects in phase two, including: redeveloping the Campus Center site for housing, restaurants, an on-campus bookstore, and admissions; redevelopment of the Randolph site for West 2 Campus Housing; leave the Ludwell Apartments; redevelopment of the Richmond Hall site and development of new properties; upgrading systems at One Tribe Place; and the demolition of the Botetourt Complex.
Brailsford & Dunlavey and VMDO
"We spent a lot of time thinking about how to preserve green spaces? How do we really take advantage of the nature that is already in this vicinity? But also thinking about how we create pathways and walkways that connect students to Swem, connect to the campus promenade? »
"We spent a lot of time with the consultants thinking about how the Center Campus site could really become a new gateway to campus," COO Amy Sebring said of the development. from West Campus. "… We spent a lot of time thinking about how to preserve green spaces? How do we really take advantage of the nature that is already in this vicinity? But also thinking about how we create pathways and walkways that connect students to Swem, connect to the campus promenade? »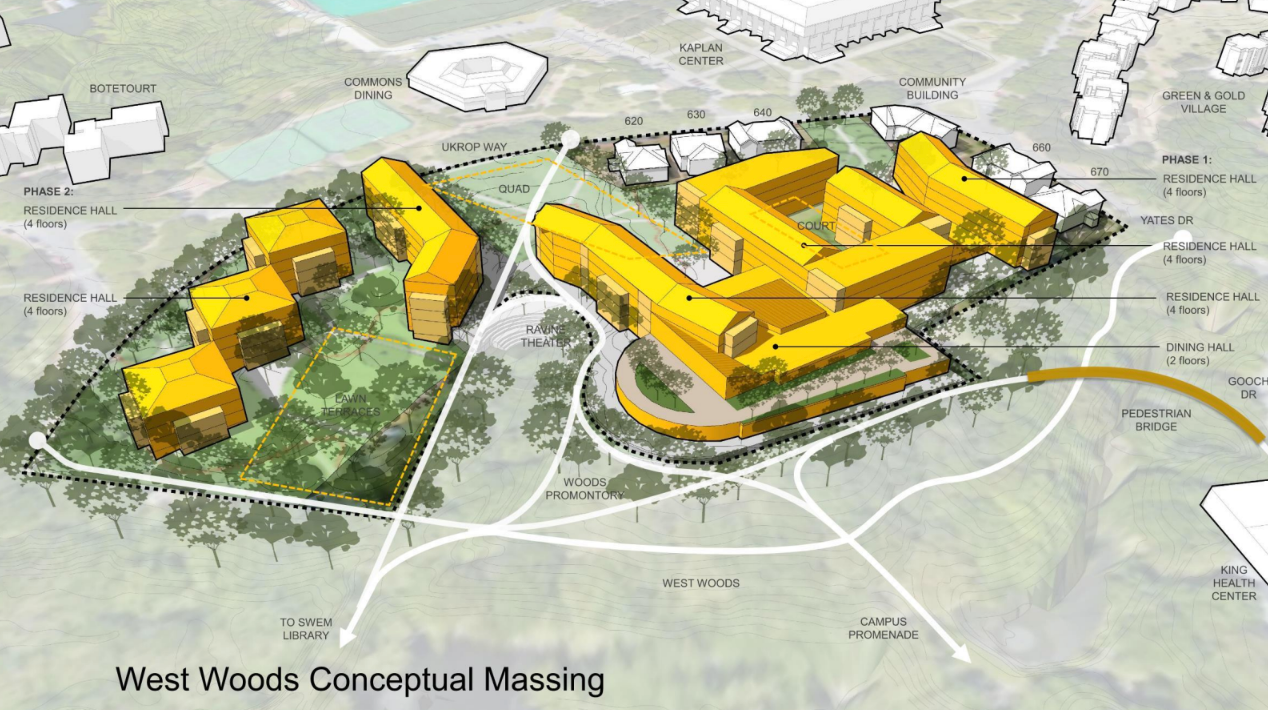 Phase three
The final phase, phase three, is made up of four projects, although the programming, design and schedule are less determined than the previous two phases. With an expected cost of $100-200 million and again working with a public-private partnership, phase three will develop West 3 Campus Housing, renovate residence halls in need of targeted replacements and upgrades – Barrett, Jefferson, Bryan and the Sorority Complex — renovate the Graduate Complex apartments and demolish Dupont Hall.
Phase three (and potentially phase two) will allow the college to increase or decrease the number of beds based on student demand.
"There are actually places in the plan where we can scale up or scale down," Sebring said. "…We have the ability to grow."
"We've identified a number of sites for future growth, so that's still in the plan," Ambler added.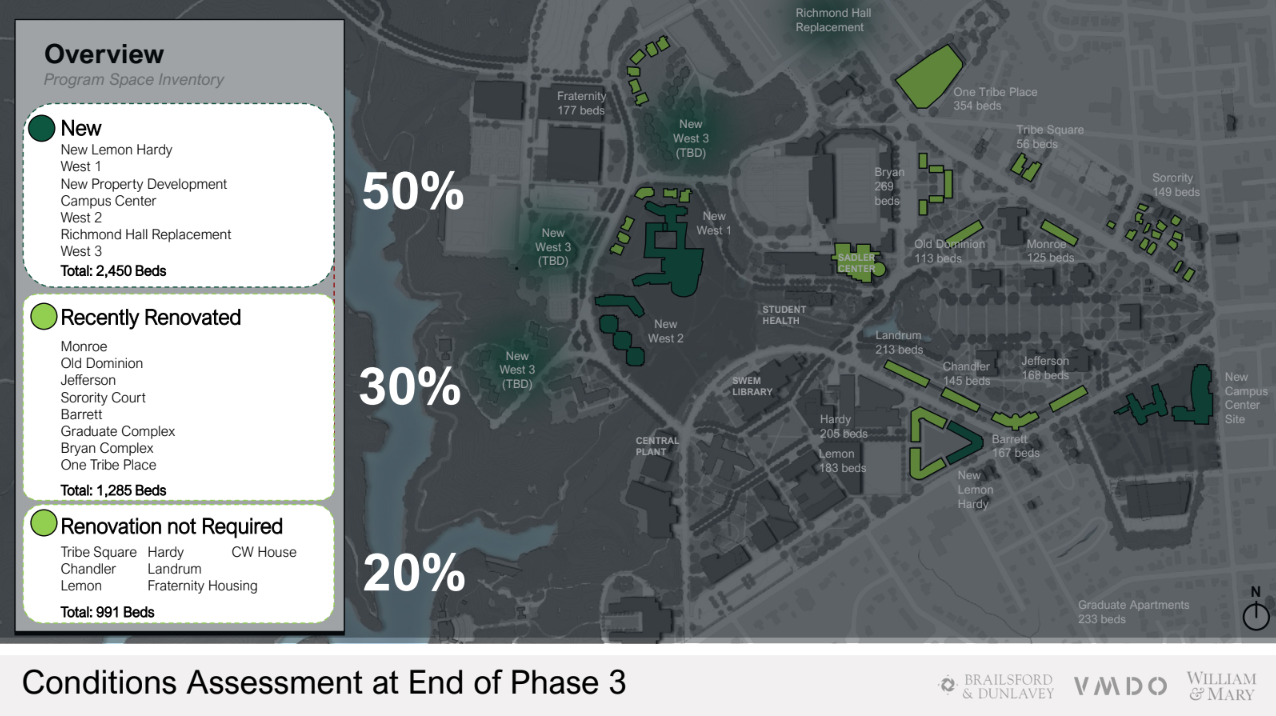 Greater Community
Some of the residence halls that the College is considering "removing", such as Brown, Ludwell and Richmond Hall, are due to the fact that the College currently leases these facilities. For other smaller dormitories that the College owns and will remove, such as Hunt and Willis, the College found that it would not be cost effective to renovate them.
"We also look at durability," Ambler said. "So it's not as sustainable to have a lot of small, small facilities, but being able to consolidate and use upgraded modern systems also enhances our sustainability efforts."
Since some of the anticipated issues depend on student demand, Ambler said the remaining "wild card" in the College's plan is the local real estate market.
"Some of the properties that were historically student rentals are now occupied by non-students hoping to buy a home in the area," Ambler said. "But you know, there's so little housing supply right now that we have people in short-term rental properties that normally wouldn't be."
Students are no strangers to off-campus housing issues; during housing selection in the spring of 2022, more than 600 upper class men were placed on a waiting list, although that number has now dropped to 19.
Off-campus housing has always had its own set of issues, such as lack of availability within walking distance of the College and affordability issues. The current Midtown apartments, which opened in the summer of 2021, were designed and targeted for the College student population and added approximately 620 available rooms to the community, according to a rental representative. Other issues include the relationship between the city and the dress and the three-year moratorium on housing applications for four people.
Despite these current challenges, the College anticipates an increase in off-campus development over the next decade.
"Our consultants have the impression, with just a little information they have, that development will continue off-campus. So there will likely be more off-campus growth, whether it's small apartment complexes or larger ones…there's some anticipation about that.
"Our consultants are under the impression, with only a little information available to them, that development will continue off-campus," Campus Living Associate Vice President Maggie Evans said. "So there will likely be more off-campus growth, whether it's small apartment complexes or larger ones…there's some anticipation about that."
On Thursday, April 21, Ambler and Sebring presented this plan in a joint meeting at the Board of Visitors meeting at the Administration, Buildings and Grounds Committee, Student Experience Committee, and Admissions Committee. hoc on organizational sustainability and innovation. The board will consider a resolution on Friday, April 22 supporting the plan.
"Residential living contributes to student success, as well as an increased sense of community at William and Mary," Ambler said. "Our halls of residence provide students with daily opportunities to engage with diverse people from around the world. Together they practice democratic ideals through self-government and nurture friendships, many of which last a lifetime. This facilities plan will ensure that we provide the best possible learning and living spaces for our students.
All images courtesy of William & Mary, Brailsford & Dunlavey and VMDO