Content of the article
The new owner of the former RCA lands on the east side in Owen Sound wants to "get the ground breaking as soon as possible" to build more than 700 rental apartments with bay views.
Content of the article
SkyDev, part of the Guelph-based Skyline group of companies, bought the 37.7-acre site at 3195 East Bayshore Road in a deal that closed on March 14.
SkyDev President Greg Jones said in an interview on Tuesday that eight "high quality" six-story apartment buildings are being considered for the former RCA site. Two leisure buildings are envisaged, one for each set of four apartment buildings and central outdoor amenities.
Although zoned for a mix of residential uses, rezoning is required to allow for full mid-density development. He hopes it will be done in 18 months to two years.
Then construction would begin, with the project to be completed within five years if demand supports it, he said. "With the demand we're seeing, that's the intention."
The apartments will have bay views at sunset, with access to the Bruce Trail and plenty of protected green space, Jones said. These will be larger and rented apartments on the market, with one or two bedrooms. All units will be rental apartments.
Soaring construction costs will influence rents, but the project will also be built with consideration for what the community can afford, he said. There will be public engagement sessions to find out what the community wants in the development, he added.
"At Skyline, the core business is owning, managing and operating rental properties. So we're good at it, we know what we're building and we're aiming to do it," Jones said.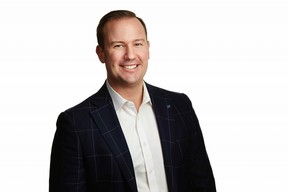 Skyline already owns eight older apartment buildings in Owen Sound and three shopping malls. It anticipates that some of its apartment tenants in Owen Sound will move into the new apartments, freeing up needed rental accommodation.
Content of the article
But Jones said his company is also riding a wave of people retiring here. They'd rather rent a new place than tie up money in a small condominium, he said.
"People have said nursing homes are the next boom, but I think people after this pandemic want to maintain their independence for as long as possible. Rental apartments are that solution," Jones said.
The company focuses on "secondary" markets and has launched new residential developments in several Ontario communities, including Welland, Tecumseh, Chatham and Gravenhurst.
Additionally, it has a proposed new mixed waterfront housing and hotel development in Meaford which it is seeking rezoning for. SkyDev is currently overseeing the development of approximately 3,000 new residential apartments across Ontario.
"With the cost of construction and borrowing and rent and vacancy, it's just at a crossroads where you have people screaming, municipalities screaming across the province looking for housing," he said. said Jones.
He cited Owen Sound's "super low" vacancy rate as a reason to build here.
Owen Sound's rental vacancy rate was 1.4 per cent in October, the latest available figure from the Canada Mortgage and Housing Corporation. The provincial rate was 3.4%. The city's rate was 4.6 10 years ago and has been on a downward trend ever since.
Jones credited a letter from Mayor Ian Boddy with sparking his interest about a year ago. He invited him to invest and build in Owen Sound. "That's what led us to start looking for a property there."
Content of the article
City manager Tim Simmonds then suggested Jones speak with people, including John Smith, whose company, Smithcorp Realty Inc., owned the property.
A rezoning application, site plan and building permits are all forthcoming, but Jones said he feels fine, backed by the city's interest in encouraging investment and based on informal discussions until ' now, Jones said.
Boddy said in an interview Tuesday that he heard the sale closed, hadn't seen Jones' proposal, but welcomed the promise of more rental housing in the city.
He said he sent probably 30 letters to property developers in the city and others inviting investors. In it, he noted that Collingwood was freezing investment due to municipal service limitations, while Owen Sound had free capacity.
The letter advised developers "we are ready, willing and able to develop here and invite them to come meet us. We heard pretty quickly from Skyline that they were interested in expanding into Owen Sound. . ." Boddy said.
He said the new flats would allow people living in three and four bedroom homes who wanted to downsize but could not find new flats to do so, freeing up their homes for others and adding available accommodation. , softening real estate prices.
Randy Scherzer, Gray County's deputy chief executive, said by email that housing prices have risen dramatically in Gray in recent years, making it more difficult to find and maintain affordable housing. Adding more rentals helps, he said.
"Communities benefit from a mix of housing options and in the county we encourage builders to create a mix of housing options, including a mix of affordable and market housing units in their builds."
In 2017, Northridge Property Management received draft plan of subdivision approval for 372 residential units on the RCA site, but the project never proceeded. After the company split, the RCA site was transferred to Smithcorp Realty, who sold it.